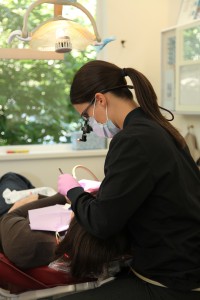 Welcome to Summit Family Dental Care! Thank you for choosing us to care for your dental needs. Please call our office at 541-779-2634 to schedule your appointment. There will be some necessary paperwork to fill out prior to your first appointment. These forms can be obtained under the Patient Forms tab on our website and submitted electronically to our office once completed. If you have dental insurance, please bring your insurance card with you as well.
The first appointment typically consists of a comprehensive exam, treatment plan, cleaning, and 4-8 radiographic images. The number of images may vary depending on any missing teeth, pathology, or symptoms you might be experiencing. If you have had images taken at another office within the last year, please request that those be emailed to us prior to your appointment. If they are insufficient or more than one year old, we will take new ones so that we have the most current information to develop your treatment plan. Some patients need to take an antibiotic prophylactically prior to certain dental appointments due to heart conditions or joint replacements. If you feel that you may need such medication, please contact our office for further instruction.
We look forward to meeting you soon!